I'm still in school for another couple months, and my spring break has just begun, so summer is still a long way off for me. But, I know a lot of people finish in May, so I thought it'd be fun to talk about just a few of my must-haves for summer. Also, with the back and forth, warm and cold weather, I think we all need a little something to remind us that summer WILL eventually come!
Flip Flops
From the first day of spring until the last possible day in autumn, I wear flip flops practically everyday. I love Old Navy's because they're super comfy and come in literally dozens of colors and styles. Plus, they're so inexpensive (think 2/$5.00, or $1 per pair during their annual sale) you can get them to match any outfit. I also keep a few pairs of J. Crew flip flops on hand and of course some dressier sandals as well, but I love these for just running around during the day.
Long Wearing Foundation
The toughest thing about wearing makeup in the summer is heat. Get too hot or sweaty, and foundation will melt right off of your face. I recently bought Rimmel's Lasting Finish foundation to carry me into the warmer monthes, and I really like it so far. I haven't tested its claims to last for 25 hours, but it stays pretty well from morning until night. Also, I've gotten a dab on my arm a few times and its been hard to get off- I don't know if that's a good thing, but at least it lives up to its advertising, right?! Oh, and at about $7, the price can't be beat! (Can you tell I love a deal? :) )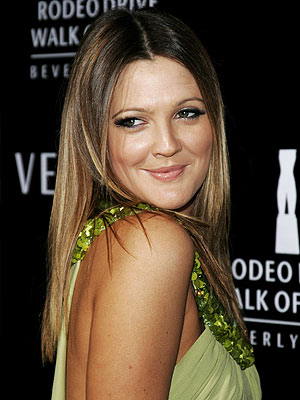 Low Maitnence Hair
For the past few years, I've specifically made sure that I didn't have bangs during the summer. Between heat, swimming, and just more running around in general, a low maitnence cut definitely comes in handy. Something like the one above would be cute to style to go out with, but could just as easily be worn up or natural when it's too hot and humid to use heat on your hair.
Nail Polish
Put your plums and navys away, because summer is all about light, bright nail polish. Neons and sparkles are fun and carfree, and pastels like OPI's "Italian Love Affair" look fabulous against a tan!
Good Books
Nothing says summer more than laying on the beach or beside the pool with a great book. During the summer, I love reading chick lit, juicy memoirs, books about fashion and style, etc. One of my favorites that I read last summer was Tori Spelling's sTORI Telling. My initial desire to read it may have come from my fondness for a little show called Beverly Hills, 90210 (seriously, that obsession hobby could get its own entire post... and probably will.), but I ended up loving the book! Since then, I've read her two follow-ups, MommyWood and Uncharted TerriTORI, each one filled with just as many mishaps, hilarities, and hearfelt moments as the first.
Great Music
Every summer has its iconic song, and last year it was definitely "California Gurls", by Katy Perry. Summer is such a great time to just relax and have fun with friends, and great music just adds to the mood- definitely a must-have for summer!